It is wise to learn from your own mistakes, and it is wise to learn from the mistakes of others.
The year we left behind will not leave fond memories for most investors. However, although many people want to forget it, it is better to use it to learn from mistakes. It doesn't matter if you've been in or out of the market this year, because as they say, "the wise learn from their mistakes, and the wise learn from the mistakes of others." We leave you with a list of lessons or mistakes we managed to make in this 2022 to learn and not forget:
The first one makes no sense, all assets have risk
Some investment models and risk ratings use sovereign bonds or sovereign bonds as "risk-free" assets. A creed that can give rise to misunderstandings is: In 2022, bonds, across their various categories, were the hardest hit assets. One way to illustrate this content is to see the evolution of a CFD on the US 2-year bond, a US 2-year bond rated AA+ with an affirmative outlook bordering on AAA, which is Standard & Poor's Highest rating given by .
US 2-year Notes weekly chart with ATR indicator (14) / Click to enlarge
Source: CMC Markets Next Generation Platform as of 12/30/2022
Second, don't confuse volatility with risk
Volatility is the rate of price movement. Risk, from an investment point of view, is the probability of losing purchasing power in a given period. For example, using the top chart of US 2-year bonds, which includes the ATR volatility indicator (average true range, which translates to true amplitude range). ATR has been at low levels for a long time. the price moved little and slowly, giving a sense of security. However, with rising inflation and rising interest rates. Bond prices have plummeted, and those who used volatility as a measure of risk were wrong.
Third, you cannot intervene in the market forever
This point is also closely related to the first two. For years we have been talking about new monetary policy, bond buying, central bank printing money… These policies have been a direct means of intervening in the bond market to keep interest rates at unusually low levels. events are negative and finance the activity at a very low cost.
A monetary policy that has lasted so long that some began to see negative interest rates as normal and not an economic aberration. In this regard, it should be noted that recently even the Bank of Japan, the BoJ, which has been a great champion or defender of bond buying, is thinking of withdrawing it. A fact that caused a small earthquake in the Japanese markets in the last part of the year. Japan 225 CFD fell as much as 3% and the market failed to recover.
Japan 225 daily chart with MACD oscillator (12,26,9) / Click to enlarge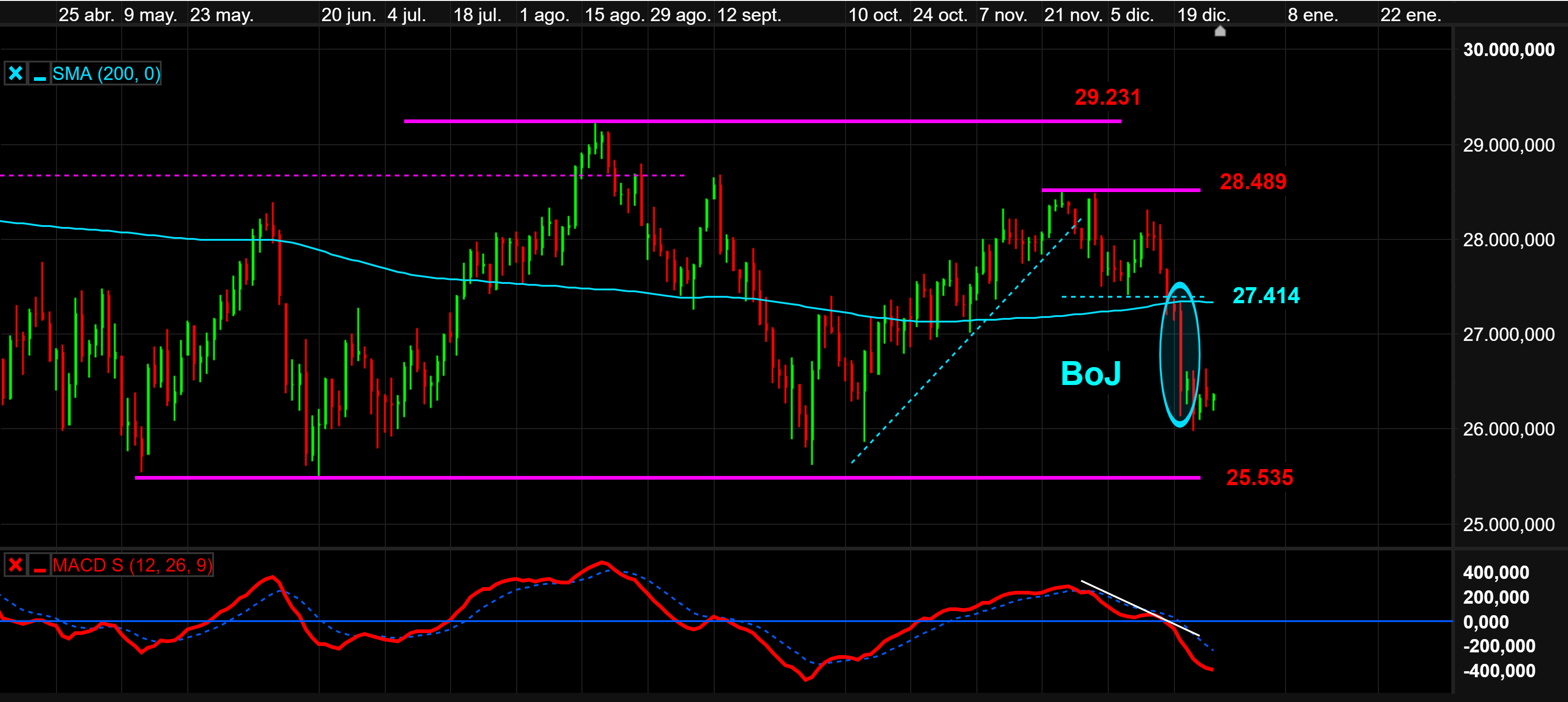 Source: CMC Markets Next Generation Platform as of 12/30/2022
Fourth, fundamentals are always important and the economics are simple.
Inflation was the word most used by financial analysts, along with central banks and interest rates. High inflation is only a symptom that the economy is not working normally. It was already growing at the end of 2021, and the war in Ukraine was the accelerator of the movement. Commodity prices, which had remained stagnant for the past decade, rose sharply and caught all economies by surprise. A behavior that can be seen in the Lyxor ETF Commodities Thomson Reuters / Jefferies CRB TR CFD, which has 19 components including agricultural commodities, metals, energy and livestock. It can be simplified and say that most of the problems of inflation and the economy have been the sharp increase in the prices of raw materials..
Lyxor ETF Commodities Thomson Reuters Weekly Chart (12.26.9) / Click to enlarge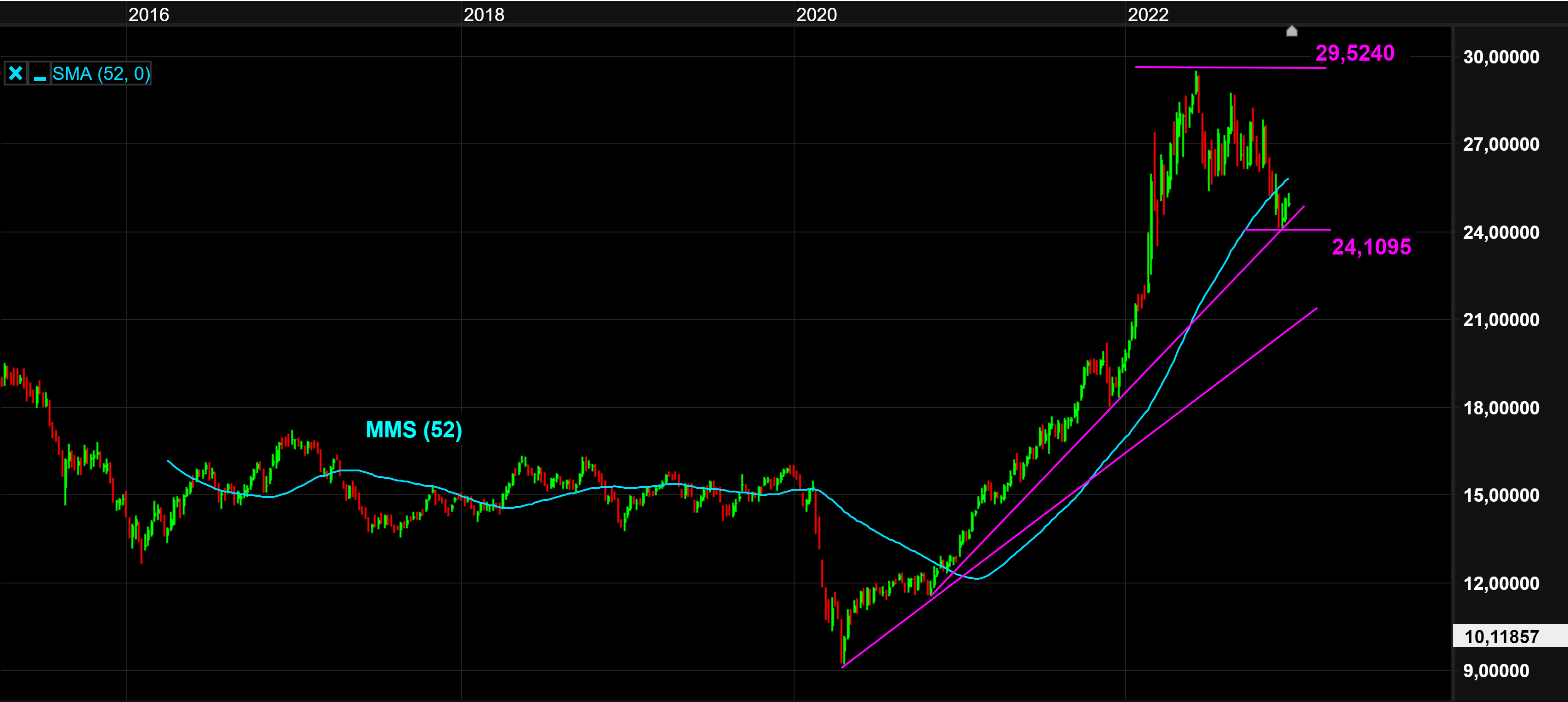 Source: CMC Markets Next Generation Platform as of 12/27/2022
Fifth, paraphrasing Warren Buffett. "When the tide goes out, you know who's been swimming naked."
Funds are always important, but they trade and shine the most when the economy is tough. In 2022, the value or "value" investment style had a much better relative performance than the growth or "growth" style. In tough times or when the current situation is difficult, investors look for assets that can generate cash flow and have a strong balance sheet. Investments in ideas or futures that may or may not materialize in the future have taken a major correction; You only have to look at the ARK Innovation ETF, which has been a disruptive fashion banner; This year 2022 has more than 65% remaining and it is trading at more than 85% of its all-time high reached in 2021.
Sixth and last, the stock market is stable, with prices recovering when things look darker
Memory is fragile and we quickly forget events. However, over many years there are always one or two turning points in the markets that lead to big moves. This year, The big market reversal, when stock markets made a strong recovery, took place in August and September;. At that time, Economic surprise indices and sentiment indicators were low; No one believed in the recovery (see "The Market Doesn't Believe in the Recovery: It's Selling the Stock Market and Buying Volatility").
We invite you to register for our next free online seminars in 2023.
On Thursday, January 12, at 5:00 p.m. Trading with Momentum Strategies.
On Thursday, January 26, at 5:00 p.m. Trade with the trend. "Don't fight the Fed and don't fight the Trend."
CMC Markets offers an execution service only. This material (whether or not it contains any opinion) is provided for informational purposes only and does not take into account any individual's personal circumstances or investment objective. Nothing in this material is intended to be, and should not be construed as, financial, investment or any other type of advice. No opinion contained in this material constitutes a recommendation of a particular investment, operating or investment strategy by CMC or its author and therefore should not be considered as such (or appropriate for any particular person). Therefore, CMC Markets shall not be liable for any loss, damage or harm arising from the use of this information.